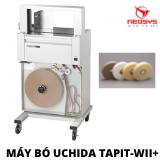 The UCHIDA Tapit-WII+ Bundle was launched in 2012 and has become the best-selling model in bóUCHIDA's series of binders with Advanced Japanese Technology and the highest quality control. Tapit-WII+ is extremely EASY to use. Only 3 key keys, [START], [TAPE FEED] and [AUTO], which reduce training time as well as downtime for maximum productivity on the production line. Maximum processing speed 26 packs/min and convenient to use different tapes, such as paper tape băngKRAFT, FILM tape as well as MAGIC Tape, etc., without any tools to change the operation . Another notable feature is NO START-UP TIME, the machine starts working immediately after power on and even the tape gets stuck in operation, AUTO CUT OFF mode makes it easy to remove the jammed tape. UCHIDA Tapit-WII+ is one of the most complete and advanced bundling machines in the WORLD.
THE MOST STABLE AND ACCURATE MACHINE USE
The guide rail system ensures the tape ring is stable without jamming. It ensures the smoothest and most accurate product bundle with no downtime and highest productivity.
NO START-UP TIME
Turn on the main power and then immediately start bundling. No warm-up time means no wasted time and high productivity.
AUTO CUTTING FUNCTION
Even the tape gets stuck when loading the tape, never worry! Simply press the [AUTO CUT] key and immediately remove the jammed tape and load the next tape. Super user-friendly and extremely efficient functionality.
HIGH SPEED UCHIDA TAPIT-WII+ BOLDING MACHINE
Thanks to the convenient, smooth bundling technology to bundle up to 26 times per minute and more than 1,500 bundles per hour, it greatly helps to shorten the batch processing time.
USE FOR BOTH PAPER AND FILM TAPE
Both UCHIDA Kraft and Film tapes are available in a box with no tools to change. Time saving and convenient for different situations.
EASY TAPE SETUP
Simply open the front cover and place the Tape in the Tape holder. It only takes a few seconds to replace the tape!
The UCHIDA Tapit-WII+ Bundle Machine is one of the most suitable bundling solutions for various jobs, such as Graphics, Packaging, Pharmaceutical, Flex Packaging, Card Manufacturers, Tools, Components Electrical, Food, Promotional Items, Labels, Tags and more. It has no usage limits and can create usage and packaging transformations from other materials such as Film Wraps, Paper Wraps and more. The accompanying solution can be the most economical as well as ecological solutions.
Please contact Neosys Viet Loi immediately for a free consultation via:
Address: No. 52, Street 17, An Phu Ward, City. Thu Duc, City. Ho Chi Minh City
Hotline: 0902 886 117 (call/ SMS / Zalo)
Japanese Contact : 0907 401 765
Korean Contact : 0909 735 117
International (SG) : +65-9186-5123
Email: info@neosys-vietloi.com.vn